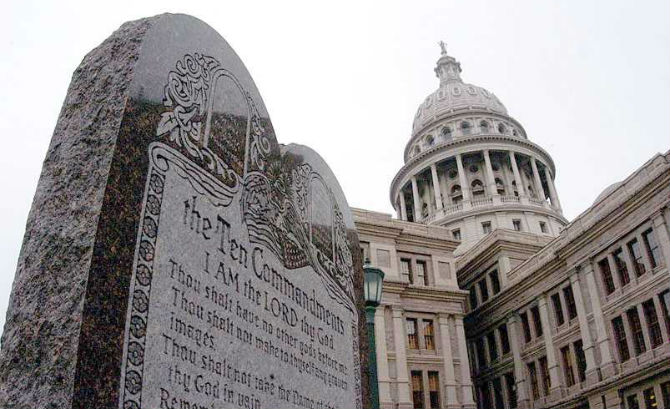 https://www.onenewsnow.com/ap/united-states/arkansas-new-10-commandments-monument-at-capitol-destroyed
Religious Erections: Ashes to Ashes, Dust to Dust
I'd understand the 'Ten Commandments' being placed on government property if the United States were a Jewish Theocracy, but it's not. We have a secular government in the United States, by definition & in practice (usually).  Yet in Arkansas, the religioulus subverted democracy to impose their beliefs onto the public again, and this time their efforts were torn down within 24 hours. Michael Tate Reed understands that people have rights, but beliefs do not.  Tate is a Christian man who has dismantled this golden calf twice now. He knows that the separation of church & state is important in the US & is committed to it. Admittedly, many a proselytizer could learn much from him.
Remember when blacks began asserting themselves in the 20's & whites subsequently began erecting civil war monuments to subtly remind them of who was in charge?? This seems like a parallel & the Christian way today to remind people who it is that lines the pockets of our government. I wish more Americans were ashamed of this…  Either way, erecting religious murals on tax payer property, & separately, by giving the impression that those beliefs are 'government sanctioned', are both vehemently anti-American behaviors.
In the interim while it gets sorted out, it would be nice to see an addendum added to every Ten Commandments monument on public property across the US to include the explicit punishment listed for breaking the Abrahamic playbook: "death", "death", "death"…. for it would serve as a quick reminder that these rules are neither Christian nor do they represent the morals or attitudes of the vast majority of Americans.
We Peninsula Pagans appreciate that spirituality minded folk on the Kenai Peninsula are capable of sharing our public property without need to sabotage one another or our US laws. We are as bothered by Christmas trees as Christians are bothered by Halloween… we play along & put up our Yule trees in celebration of the birth of the sun, & Christian families share candy with our kids on the doorsteps of their homes in generosity toward ancestral spirits & tradition. Reciprocity is important & respectful.
We are hopeful that our local Kenai Peninsula Borough Assembly will soon figure out that we are all Americans, equally. Arkansas seems to be grappling with the same dichotomy so it's not an uncommon misunderstanding.  America is built of people's of all faiths, approximately 313 to be exact, and each perceived as valid by their adherents. None of us have the legal right to lay claim to any piece of taxpayer funded property or time to further our religious agendas. They'll come around one way or another…
Peninsula Pagans do not condone vandalism by the way, but neither do we support the current religious entitlement problems our citizens are wrapped up in.  Erections in public aren't something the public should be required to see, especially righteous ones.
Thanks for sharing 😊